About DJ's Metal Art
Note from Dennis Jasmer, Metal & Wood Art Designer / Owner
DJ's Metal Art was featured in the "Made in Wisconsin" Magazine.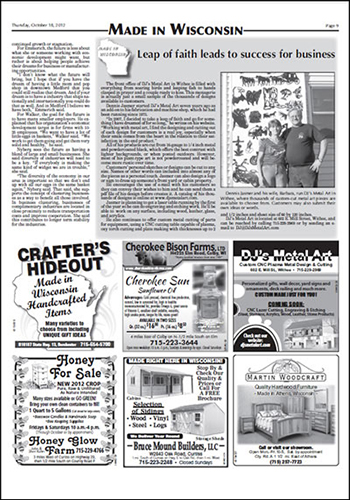 Click on the magazine to read the article.
I have been in the fabrication and machine shop business since 1975 and in that time have learned incredible skills and met wonderful people. I have enjoyed every minute of it!
In 2007, I took a leap of faith in dedicating my skills, equipment and time to pursuing a longtime dream of creating metal art. I find the process of designing and fabrication of each piece a joy. All of my metal art pieces are plasma cut from 20g or thicker metals. I am graced with each customer's heart-felt delight in seeing their ideas come to fruition.
Once cut, metal art projects can be powder coated to assure long lasting beauty, whether indoors or outside. The powder coating is processed by my lovely wife, Barbara. We met in 2011 and quickly became partners in all of life. Barb is a master at powder coating and provides a unique perspective on designs.
In 2013, we decided that CO2 laser engraving and cutting would be our next investment. we were able to integrate this engraving with my existing experience in plasma cutting and powder coating. The results are incredible and this new level of creating, whether engraving on wood, glass or cutting acrylic, gave us new options and endless ideas!
In 2019, we decided to upgrade our laser and the size of the projects we would be able to undertake. After some in-house customization, we now have the CO2 laser that can keep up with my imagination.
We are people who enjoy learning new processes and creating increasingly difficult projects, so in 2022, we added an industrial level CNC router. We are able to manufacture custom stair spindles and enjoy the challenges that clients have presented us with on this new creative method.
We enjoy conversing and emailing with each customer in the course of finalizing each design. As a designer, over the years, we have worked with personal sketches, logos, names and sentiments provided by clients. We pride ourselves on providing a final design for approval which includes sizes and detail notes.
Give us a try – We guarantee you will be pleased with the results and quality of the product!!
Dennis Jasmer, Metal & Wood Art Designer / Owner
Email: DJ@DJsMetalArt.com
Phone: (715) 797-4300
---
DJ's Metal Art is a Member of:

Owen-Withee Area Chamber of Commerce
(Wisconsin)